Walking With Purpose (WWP) is a Catholic Bible study that aims to bring women to a deeper personal relationship with Jesus by offering personal study and small group discussions that link our everyday challenges with solutions given to us through the teaching of Christ and the Roman Catholic Church.
Why Join WWP (Waking With Purpose)? 
WWP is a Catholic Bible Study for women.
WWP fits into your busy schedule offering both morning and evening sessions.
Free babysitting is provided during the mornings.
WWP is a No-Judgment Zone. We welcome anyone interested in studying God's Word.
We offer "rolling admission." Visit and join our program anytime.
You meet new women for fellowship and friendship during our hospitality time.
There is no actual walking involved!
No prior Scripture knowledge is required, just your WWP Study Guide and a Bible.
You can come every week or whenever you can.
All women are welcome, irrespective of faith background, age, or marital status.
We share our everyday challenges in an atmosphere of honesty and authenticity.
And most importantly…Jesus wants your friendship and your focus on Him!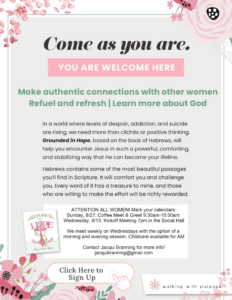 Want to learn more?