Adult Formation
Come, break open the Word with us!
At St. Nicholas, we provide a variety of ways that you, as an adult, can strengthen your faith and commitment to God.
Monday Night Study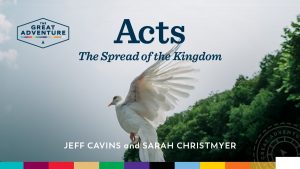 Join us for this epic 20 week study
Acts is the story of how a few Christians, empowered by the Holy Spirit, were chosen to bring Christ and the Good News to the ends of the earth. They faced secular forces, internal strife, and hostile crowds, and despite all of this, they brought the kingdom of God to a broken world and the love of God to the hearts of men.
Acts: The Spread of the Kingdom traces how the gospel witness spread outward in waves from Jerusalem, and reveals how the seeds of Church structure and authority took root. Presenter Jeff Cavins shows how the joys and struggles of the early Christians in living the life of Christ apply to us today.
Acts: The Spread of the Kingdom will help you to see your place in the Church as a disciple of Christ.
You can join in person or via zoom by using this link:
https://us02web.zoom.us/j/86164775056
Books can be purchased here.
Call the parish office or email Steve at sbranning@stnicholasvb.com if you have any questions.
For the women of the parish:
We are overjoyed to rekindle the women's ministry within the parish this fall 2021. Here are some preliminary details regarding the fall.
-8-week series (September 30th- November 18th)
-Theme: ARISE! A Study for Women: Discovering Who God created you to be and how to share the love of Christ with others
-When: Thursday's either choose the morning session or the evening session
-Morning session 9:30am-10:30am
Evening session 7pm-8pm
There will be time for fellowship after the meetings, but that is optional.
For the men of the parish:
That Man is You!
That Man is You! Will be starting up again very soon.
For those of you that are unfamiliar with TMIY, it is unlike anything else that you've experienced. It tackles real issues facing real men. It looks at the leadership role that has been entrusted to men and addresses the temptations and struggles men face in a culture that attacks authentic manhood. Finally, it helps formulate a plan that allows men to overcome these obstacles.
Here at Saint Nicholas, the program will be hosted every Saturday morning here in the social hall beginning September 11. We gather at 6:30am for individually-wrapped breakfast options and coffee. Then there's a presentation at 7:00 that combines the best scientific research with the teachings of the Church and wisdom of the saints. It's followed at 7:30 with breakout groups that provide the opportunity to discuss what's been presented. Finally, we're on the road by 8:00, to get back to our families or weekend activities.
The best way to judge a program is by its success. Men who've attended the program and have been Catholic their whole lives say this is the program they've been waiting for. They consider it a "home run", saying it is hard to imagine how the program content could get any better. Priests say that it literally transforms men and saves marriages. It's that powerful. From a test parish in Houston, TX, the That Man is You! program has quickly spread to hundreds of parishes throughout the United States and even internationally. Check out this promotion video to learn more about our upcoming year: https://www.youtube.com/watch?v=pEqla7OGNZ8&list=PLA49B6732E879ED32&index=7
For questions contact Ron McKechnie: ron@mckfamily.com
For more information about that man is you check out their website: https://paradisusdei.org/that-man-is-you/
ATTEND LITURGIES:
In addition to weekend Mass, Liturgies are offered throughout the week:
Daily Mass, Tuesday – Friday at 9:00AM
Eucharistic Adoration, every Tuesday from 9:30AM – 5:30PM
"If we wish to make any progress in the service of God we must begin every day of our life with new eagerness." – St. Charles Borromeo