CHRISTIAN FORMATION K – 5
FIND YOUR PLACE
CHRISTIAN FORMATION K – 5
St.  Nicholas Catholic Church provides a vibrant and exciting place for children of all ages to explore God and His teachings through our youth programs, and our Christian Formation classes.
St. Nicholas ensures our youth are building meaningful friendships with parishioners, each other, and most importantly with Jesus Christ. We welcome all children to build their faith, stewardship and love of Jesus through our programs at St. Nicholas.
Ways we achieve this connection with children in grades K-5:
Christian Formation classes for grades K – 5. This upcoming year (2021-2022) we are planning on coming back to the parish for in person formation. This past year we had a hybrid class where most of the lessons were done at home! If you are interested in viewing any of these weeks Click here
First Eucharist and First Reconciliation preparation
Vacation Bible School each summer in August
Please contact Steve Branning at sbranning@stnicholasvb.com with any questions. Thank you!
---
As we are all still dealing with the COVID-19 pandemic, I want to off you all "5 Important Truths to Remember at the Start of the THIRD COVID School Year"
Thanks to the COVID-19 pandemic, the last year and a half has largely been an unsolicited academic and emotional rollercoaster ride for students, teachers and parents. Unsure of what's to come this year, we look to our faith for strength, direction and hope.
Here are five truths to keep in mind as the year begins:
You are not alone in this. In fact, everyone on the planet is with you in the unique travails brought on by the pandemic. There is strength in our sense of solidarity and in knowing others can relate to the specific trials of parenting and guiding children at this given moment. Additionally, countless others in generations past have endured various adversities and plagues before us. They are worthy encouragers from their vantage point of heaven or purgatory. Ask their assistance.
In moments of temptation to discouragement and being overwhelmed, pray "Jesus, I trust in You!" Repeat this until it fixes your eyes on Him; He is trustworthy.
Carve out times of rest, personally and as a family. With the cumulative fatigue garnered over the pandemic it is perhaps increasingly important to "'rest a while'" (Mk 6:31).
Get outdoors, even if just to take five deep breaths or feel the wind on your face. Nature is God's first love song to us. Allow yourself to hear the melody and let His Love recharge you through it.
Remember: God is with you. He's "'with you always, until the end of the age'" (Mt 28:20). And He's with you "like a mighty champion" (Jer 20:11). Therefore, if God is for you, who or what can be against you? (Rom 8:31).
This short article comes from Nicole Snook at Teaching Catholic Kids. The article can be seen here: https://teachingcatholickids.com/5-important-truths-to-remember-at-the-start-of-the-third-covid-school-year/
---
Click here to complete the 2021-2022 Christian Formation registration form online.
Click here to PAY NOW for Christian Formation registration.
Click here to print the Christian Formation registration form.
Christian Formation schedule 21-22
Parent Resources:
Parents, your role and responsibility to bring your children up in the faith can be challenging but rewarding. Check out some of these resources to help you!
The Peyton Family Institute gives some good up to date research on what families practice/believe. It gives some tools to help you at home. You definitely want to check this website out! https://www.peytonfamilyinstitute.org/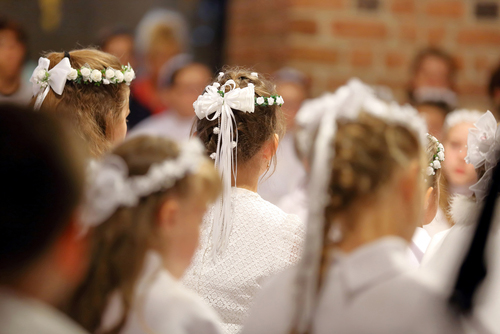 "Let the children come to me, and do not prevent them; for the kingdom of heaven belongs to such as these." (Matthew 19:14)