CHRISTIAN FORMATION K – 5
FIND YOUR PLACE
CHRISTIAN FORMATION K – 5
St.  Nicholas Catholic Church provides a vibrant and exciting place for children of all ages to explore God and His teachings through our many youth programs, and our Christian Formation classes.
St. Nicholas ensures our youth are building meaningful friendships with parishioners, each other, and most importantly with Jesus Christ. We welcome all children to build their faith, stewardship and love of Jesus through our programs at St. Nicholas.
Ways we achieve this connection with children in grades K-5:
Christian Formation classes for grades K – 5
First Eucharist and First Reconciliation preparation
Vacation Bible School each summer in August
Please contact Steve Branning at sbranning@stnicholasvb.com with any questions. Thank you!
Click here to complete the Christian Formation registration form online.
Click here to print the Christian Formation registration form.
Click here to PAY NOW for Christian Formation registration.
Click here for 2020-2021 Christian Formation Schedule.
At-Home Christian Formation 
Parents,
Before we start Christian Formation sessions at the parish in the middle of October, this page will help guide you with some ideas and activities on how you can create an encounter with our Lord at your home with your children. It is vital to your child's growth in faith that he/she has an encounter with Jesus otherwise Christian Formation becomes just another thing we do on Sunday and to our children it is viewed as "school". This encounter with our Lord begins at home with you, your role in forming your child in the faith is foundational! Look at this quote from the new Directory for Catechesis:
" The family is a proclamation of faith in that it is the natural place in which faith can be lived in a simple and spontaneous manner. It has an unique privilege: transmitting the Gospel by rooting it in the context of profound human values. On this human base, Christian initiation is more profound.: the awakening of the sense of God; the first steps in prayer; education of the moral conscience; formation in the Christian sense of human love, understood as a reflection of the love of God the Father, the Creator. It is, indeed, a Christian education more witnessed to than taught, more occasional than systematic, more ongoing and daily than structured into periods. "  (paragraph # 227, emphasis added)
The first experience of the Church for children comes from their parents and as you can see from the last line of the quote, faith is WITNESSED AND DAILY. The formation in the faith that you provide them at home is irreplaceable and the most natural place to start, and what we provide here at the church is deepened through programs that help the children learn more.  The grace that comes from the Sacrament of your marriage gives you what you need for the Christian education of your children. So fear not, you will be given all that you need. "Trust in the LORD with all your heart, on your own intelligence do not rely; In all your ways be mindful of him, and he will make straight your paths." Proverbs 3:5-6
Click here for previous weeks archives
April 11:
Happy Easter! Christ is risen! The Church now celebrates this reality for 50 days! There is something significant about that! So lead your families with the joy of Easter these upcoming weeks and beyond. The reality is that God loves each and every one of us and the evil has not power over us.
For this week I want to encourage you all at home to focus on joy! Do everything with joy, from the mundane to the work you do. That joy should be seen by your children and then you can encourage them to do the same.
The Gospel this week is the story of doubting Thomas, a beautiful account of how Thomas recognizes Jesus by the invitation of putting his hands in his wounds. And Thomas responds, "My Lord and My God." Here is a fun little video to show your kids this account: Doubting Thomas
To have fun with this you can have some treats for your kids that have a "hole" in them. Such as mini donuts or peach rings.
A beautiful piece of art by Caravaggio depicts this scene in a realistic way. Take some time to look at this picture and talk with your children about who they see and what they see.  Caravaggio
As I mentioned last week, this week is also known as Divine Mercy Sunday. Here is a short video connecting this Feast Day to the readings. Note that this video was for last year (Year A) and the first two readings are different. The Gospel is the same and the message at the end is too!  Divine Mercy Readings
Here is some more information on Divine Mercy, including a craft: Divine Mercy Craft
Take 10 minutes at the end of your time today to pray the Chaplet of Divine Mercy. Directions on how to do so can be found here: How to pray  the Chaplet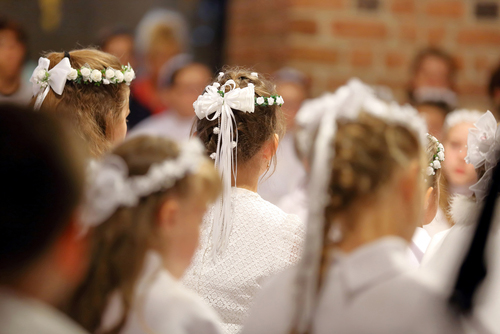 "This is eternal life, that they may know you the only true God, and Jesus Christ whom you have sent." (John 17:3)