Parish Life
The mission of Parish Life is to bring together our parishioners in a spirit of fellowship, to build community and enjoy a life of giving in the name of Jesus Christ. We plan and host dynamic social events as a way of engaging our faith community fully in the total life of the parish. We invite you to share your time and talents with Parish Life by serving on our Steering Committee or by volunteering, coordinating and supporting our events.
For more information, contact:
We can always use volunteers to help out with our events! If you are interested in participating in Parish Life events, please see the link below for volunteer opportunities.
Coffee Hospitality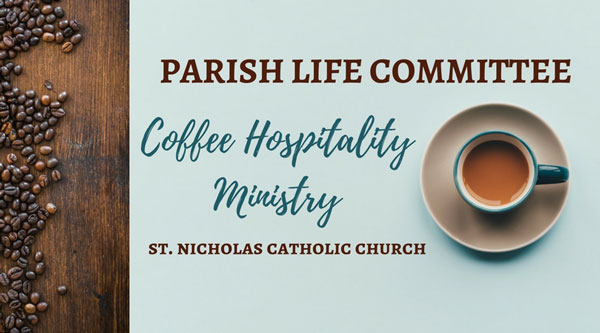 Coffee Hospitality Ministry
Coffee Hospitality is held twice monthly and has a large group of 50+ volunteers who serve beverages, pastries and light finger foods after all masses. Working in this ministry is a great way to get to know members of the parish while helping to add to its vibrancy.
The ministry is currently led Luisa Gowen and Janet McCarraher, who would be happy to answer questions about this opportunity.
St. Nicholas Coffee Hospitality is held on the 1st and 3rd weekends of the month after every liturgy. The congregation is invited to the Social Hall to meet fellow parishioners and enjoy light refreshments. Typically, four volunteers are needed for each Mass. Volunteers are asked to show up 30 minutes before the start of liturgy to prepare and plate the food items and make coffee; hospitality usually lasts about half an hour, with clean-up taking another 20 minutes or so.
Volunteers typically receive email or telephone reminders four or five days in advance of a Hospitality Weekend and are asked to confirm their ability to help or secure a substitute.
Following Saturday evening's Mass, our Coffee Hospitality adds Wine Hospitality to the title, with wine and cheese served after Mass.
To volunteer, contact:
Luisa Gowen & Janet McCarraher
[email protected]
Men's Club
This Men's Club meets monthly to organize and lead special events including the annual Fish Fry, Trunk or Treat/Oktoberfest, and Parish Spring Picnic. These talented guys are on a relentless pursuit to support the needs and goals of the parish! They welcome men of all ages to attend meetings, or volunteer with a project or event, utilizing inherent expertise and teamwork.  The work of the Men's Club serves in coordination with other ministries including: Christian Formation, Youth Group, Liturgy, and Building & Grounds.
For more information, contact:
Mike Pettinger
Women's Club
The Women's Club is a ministry for the women of the parish that works to provides spiritual nourishment, interconnectedness, social activities and welcoming events. Members of the Women's Club support a variety of parish events and organize a weekly homemade dinner for Father Jun. All are welcome to attend the monthly Women's Club steering committee meetings.
For more information, contact:
Susan Zydlewski-Settinari
Mom's Group
The Mom's Group organizes activities and bible study with babysitting provided.
For more information, contact:
Steve Branning
Welcome Committee
"Welcome to St. Nicholas! We are glad you are here!"  The goal of the welcome Committee is to support an atmosphere that says "All Are Welcome" to anyone who enters St. Nicholas Catholic Church.  This committee will staff a registration table at each Mass to answer questions and to facilitate the registration of new parishioners.
For more information contact:
Stewardship Committee
The Stewardship Committee plans and implements the annual Stewardship Weekend where all are invited to serve in the building of God's Kingdom here at St. Nicholas by volunteering or joining a committee. They also provide training and catechesis to parish ministries and volunteers.
For more information contact:
Lora DiNardo
Recurring Parish Life events at St. Nicholas include:
Fellowship Pancake Breakfast, every three months
Sunday Hospitality, bi-weekly following Masses
Lenten Fish Fry, Annually
Lenten Soup Suppers
Trunk or Treat/Oktoberfest
Lessons & Carols Reception
Breakfast with St. Nicholas
Easter Vigil Reception
Parish Carnival
Easter Egg Hunt
Stewardship Weekend
"For where two or three gather in my name, there am I with them. (Matthew 18:20)"