The sacraments are the "the masterworks of God" in the new and everlasting covenant. "The purpose of the sacraments is to sanctify men, to build up the Body of Christ and, finally, to give worship to God. Because they are signs they also instruct. They not only presuppose faith, but by words and objects they also nourish, strengthen, and express it. That is why they are called sacraments of faith."
At St. Nicholas, our purpose is to invite people to experience the love of Jesus through learning about our Catholic Faith and encountering Him through His Word and the Tradition of the Church, for the sacraments are the "the masterworks of God" in the new and everlasting covenant.
We guide your faith every step of the way, from baptism to marriage and beyond. And, if you're interested in becoming a Catholic, we take you on a journey with Christ to learn about the Catholic Church.
Infant Baptism
If it is a first child in the family, parents are required to participate in a preparation session. Sessions are held several times throughout the year and can be done one on one or even online. We are called to abundant life and by our baptism we are freed form sin and are able to enter into the life that Christ calls us to, his divine life. Currently, baptisms are usually held privately (outside of Mass) on Saturday mornings at 10am.
To schedule a time for a baptism class and a baptism contact Steve Branning  to register at sbranning@stnicholasvb.com or 757-340-7231.
Marriage Preparation
Our marriage preparation program facilitates the thorough discernment and preparation a couple needs before receiving the Sacrament of Matrimony (link to marriage page). Please contact the parish office six months in advance of your anticipated wedding date.
First Eucharist
Preparation sessions for parents and children are held in the winter. Adults are involved with the children as leaders, aides, assistant coordinators, and at social events. Children, usually 2nd graders, must be registered in Christian Formation Class.
It is Holy Communion that draws us into a deeper intimacy with Christ.
First Reconciliation
Preparation sessions for parents and children are held in the fall and early winter in the 2nd grade First Communion Class. Adults are needed to assist with workshops, retreats and office. Children must be registered in Christian Formation Class.
Confirmation
Confirmation is the sacrament whereby baptized Catholics are "more perfectly bound to the Church and are enriched with a special strength of the Holy Spirit. Hence they are as true witnesses of Christ, more strictly obliged to spread and defend the faith by word and deed." In the diocese of Richmond confirmation is received by youth who have completed the 9th grade. Confirmation preparation consists of active enrollment in high school formation as well as participation in Confirmation specific preparation. Click here for more details.
Pastoral Care
St. Nicholas offers Holy Communion for those who are hospitalized or homebound. Anointing of the Sick can be arranged for those facing surgery, serious illness, or disabilities.
For more information, contact Lora DiNardo at 757-340-7231 ext. 16. For after hour pastoral emergencies call 757-286-7256.
Preparation for Christian Initiation of Children or Adults (RCIA)
Individuals interested in learning about the Catholic Church or entering the catechumenate, please contact Steve Branning.  Inquiry welcomed at any time. See our RCIA page for more details.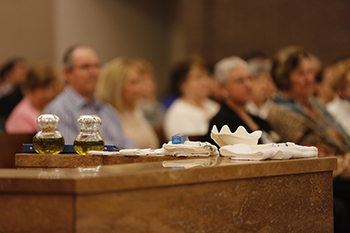 Infant Baptism
Marriage Preparation
First Eucharist
First Reconciliation
Confirmation
Pastoral Care
Preparation for RCIA