Vision for the Future
The community of St. Nicholas, under the guidance of its pastor, Father Jun, confidently looks to the future full of trust in the mercy and grace of Jesus Christ. We as a community seek to grow as disciples of Jesus Christ and to shine forth his light to others.
We seek to evangelize both inside our Church and without. We seek to build and foster families, the domestic Church, and the whole parish through small faith groups, a vibrant sacramental life, and community building activities.
We also plan to revitalize our physical worship space through exterior and interior reconstruction projects so that we may more deeply enter into liturgy, prayer, and community.
During this year of mercy invite everyone, within the parish and without, to allow Christ's love to permeate their lives. Wherever you are in your journey we invite you to join us.
Our History
In January, Fr. Jun, Haiti Committee chair and members of Staff & Pastoral Council visited St. Anne's parish in Massiade, Haiti. We met their new pastor, Msgr. Jethro and began working with Monsignor and his Pastoral Council on a new Parish Twinning Convent.
Fr. Jun, Staff and the Building Repair committee are working with architects on the design and construction plans for wall repairs and Vestibule renovations. Click here to view pictures and find out more about the project timeline.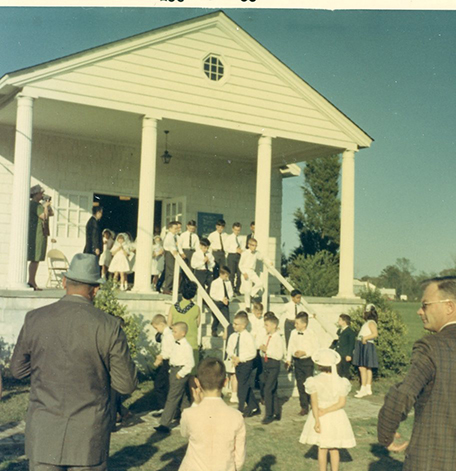 "To fall in love with God is the greatest romance; to seek him the greatest adventure; to find him, the greatest human achievement."
– St. Augustine
<! ========= Cool Timeline Free 2.7.1 =========>
Timeline
2015
Fr. Jun, staff and cabinet members led the parish through the diocesan Living Our Mission Capital Campaign, surpassing our $1,350,000 campaign goal. Campaign projects include: urgent building wall repairs, a new church sign for Little Neck Road, a new crucifix in the Sanctuary, new risers for the choir, and a..
Read More
2014
The parish was invited to the book study, Thirty Days to Morning Glory. On the Feast Day of Guadalupe, one hundred twenty parishioners attended an evening Mass where many were consecrated to the Blessed Mother. Moms began a Tuesday afternoon weekly adoration group for their children.
2013
"Journeying Together in Christ" – We celebrated the Fiftieth Anniversary of St. Nicholas Catholic Church with a year of special Jubilee Liturgies and events that included the installation of a new stained glass replica of the Holy Spirit dove from St. Peter's Basilica above the altar and a pilgrimage to..
Read More
2012
Weekly Eucharistic Adoration was added to our parish devotions and takes place every Tuesday in the Chapel. A variety of new Parish Life activities and groups including Men's and Women's Clubs, formed. We celebrated our first parish Outdoor Mass followed by a parish picnic.
2011
We celebrated Msgr. Ray Barton's 71st Birthday, 45th Anniversary of Ordination and Retirement at a special Mass and party at the oceanfront Hilton. We welcomed our new pastor, international priest Rev. Venancio R. Balarote, "Jun" arrived. Fr. Jun was born in the Philippines and raised in Malaysia.
2010
A committee of parishioners led a three year Capital Campaign that was successful in addressing some of the needs for the future upkeep of the church to include: a new roof, air conditioning systems, lighting, pavement repairs, two bathroom renovations and first floor  hallway tile replacement. Msgr. Barton led a..
Read More
2002
A new parish Columbarium and garden was constructed next to the front entrance of the Church.
2000
The parish mourned the loss of their former pastor, Rev. Jim Noto. The Great Jubilee Year was a major event in the Catholic Church, celebrating the mercy of God and forgiveness of sins. Msgr. Barton served on the diocesan task force and St. Nicholas participated in a diocesan celebration for..
Read More
1999
The parish celebrated with Fr. Noto as they paid off the mortgage on our building. Fr. Noto retired as his health began to decline. The Rev. Msgr. Ray Barton, Bishop Sullivan's Vicar for Ecumenical and Inter-religious Affairs, became our next pastor.
1997
Most Reverend Walter Sullivan signed a one hundred year rental lease at $1 a year with M.E. Cox Center and they moved into their own building on parish grounds. The first parish directory was published.
1990
A Fall Tent sale and parish carnival became an annual event that supported growing parish ministries and social outreach projects such as the Winter Shelter.
1989
Fr. James M. Noto became the next pastor of St. Nicholas. During his tenure over the next ten years, Father and parishioners enjoyed producing a series of dinner theater musical productions which served as fundraisers for the parishes growing ministries.
1988
The newly remodeled church was rededicated with a new church entrance facing Little Neck Road. A new rectory was built in the neighborhood near the church. The former rectory, located in the church parking lot, was rented to a non-profit organization, Mother Seton House, which serves as a shelter for..
Read More
1986
The first group of St. Nicholas parishioners visited our twin parish in Massaide, Haiti.
1985
The Haiti Ministry and Commission of the Diocese of Richmond approved a Constitution which served as the foundation for the Haiti Twinning program. St. Nicholas established one of our diocese's first twinning relationships with a parish in Haiti partnering with St. Anne's in Massiade.
1983
The Center for Leisure Activities for Older Adults, Inc. moved into St. Nicholas. It eventually became M.E. Cox Center for the Elderly in honor of Mary Ellen Cox, the founder of the center.
1980
Fr. Hanna began a remodel of the Sanctuary that included a change in location of the altar to the center of the Sanctuary and construction of a new parish Social Hall, Commons, Kitchen and two restrooms.
1977
We welcomed another addition, Holy Family Catholic Church, located on Great Neck Road. The addition of two new Catholic churches in the late 70's brought big change to St. Nicholas who said good-bye to 450 registered families.  Fr. Michael Hanna became pastor of St. Nicholas in the Spring. The collection..
Read More
1975
The Catholic Church expanded in Virginia Beach with the construction of Holy Spirit Catholic Church on Lynnhaven Road.
1973
Thirty men were commissioned by the Bishop as our first Lay Eucharistic Ministers. Women were able to serve as Lectors but not allowed to be Eucharistic Ministers.
1972
Fr. Carl Naro became the new pastor a year before the parish celebrated its tenth anniversary at the Fort Story Officer's Club. Adm. Jeremiah Denton, POW and member of St. Nicholas was the speaker for the event.
1965
With weekend Mass attendance growing to 2000 the parish was quickly outgrowing the church-hunting lodge. A fifth  Mass was added to the weekend schedule and was held at the Princess Anne movie theater on Virginia Beach Boulevard (which is now Open Door Chapel).
1964
Following the death of Fr. Nicholas Habets, Rev. Thomas Summers was appointed as pastor and began campaigning for the new building fund by writing a series of letter to parishioners entitled, Epistles to the Nicholocians.
1963
The first Mass was held in neighboring Kings Grant Elementary School with approximately 40 people in attendance. A hunt lodge was transported across Kings Grant Road and set on the property of St. Nicholas where the first Mass was offered in the hunt lodge on Palm Sunday of 1963. The..
Read More
1962
Most Reverend John J. Russell, D.D., Bishop of the Diocese of Richmond, formally announced that St. Nicholas Catholic Church would be canonically erected.
1959
The Catholic Diocese of Richmond purchased twelve and a half acres of land for the expansion of the Roman Catholic Church in Princess Anne County, which eventually became the city of Virginia Beach.