This week a great activity to learn and grow in our understanding is on the rosary.  Within the Catholic Church calendar, October is know as "The Month of the Holy Rosary".  So take some time this week to talk to you children about the rosary and ultimately pray the rosary.
There are many great testimonies that show the power of the rosary in individual lives and also in the world.  One such example is the Feast Day of Our Lady of the Rosary which we celebrated on Thursday October 7. Take some time to learn the briefs of this story and then tell it to your children, I am sure they will be captivated by it.  Our Lady of the Rosary
Also check out this video where you will see Bishops from all over the country praying the Rosary together on the Feast of Our Lady of the Rosary. It really is beautiful to see them all praying together: https://www.youtube.com/watch?v=6YdHQqGbvzk&feature=emb_logo
Mary also wants to intercede for us and so praying the rosary daily and as a family can bring many graces into your home. Here is a nice article that highlights some of the reasons why we should pray the rosary: Why You Should Pray the Rosary
Here are some great tips for praying the rosary with children of all ages. This site also gives some good links : Tips for Praying the Rosary
Do you or your children need a guide to show what to pray and when to pray?  Rosary Guide
Lastly, here are some craft ideas:
Some of the classes did this last year, but in case you want to do it again here is a really simple craft: https://www.catholicicing.com/easy-rosary-craft-for-kids/
This one requires a little more time, but it looks fun for those that love to craft: http://www.catholicinspired.com/2013/10/soft-rosary-for-young-children-great.html
Here are some fun and tasty ideas to try: https://www.catholicicing.com/make-and-edible-rosary-fun-for-catholic/
Here are a couple of coloring pages: The-Rosary-coloring-page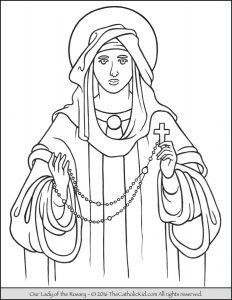 I hope you enjoy these activities for the week!