Adult Formation

Come, break open the Word with us!

At St. Nicholas, we provide a myriad of ways that you, as an adult, can strengthen your faith and commitment to God.
OPEN THE WORD:
 Bible Study every Monday from 7-8 p.m.
Who is invited?
All people who are interested in studying the word of God.
What's involved?
We pick a book of the Bible and read a chapter a week. We provide materials and discussion questions.
Moms' Bible Study Wednesdays at 9:30 a.m.
All moms seeking Jesus are encouraged to join and read, study and discuss the Bible.
Women's Bible and Book Study, Wednesdays at 9:30 a.m.
ATTEND LITURGIES:
In addition to weekend Mass, Liturgies are offered throughout the week:
Daily Mass, Tuesdays at 7:00PM; Wednesday, Thursday and Friday at 9:00AM
Eucharistic Adoration, every Tuesday from 10:00AM – 6:45PM
UPCOMING EVENTS:
Monday Night Bible Study is "Theology for Beginners".
Join us this week in the commons area from 7-8pm.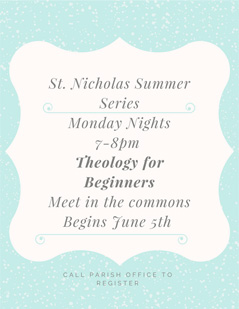 "Holiness does not consist in doing extraordinary things. It consists in accepting, with a smile, what Jesus sends us. It consists in accepting and following the will of God." (Blessed Mother Teresa of Calcutta, Mother Teresa: In My Own Words)